Categories
Categories
Brands
Brands
Lander New Dynamic V2 90mm Special Metal EDF Unit For 10S - New Version
Lander New Dynamic V2 90mm Special Metal EDF Unit For 10S - New Version
Product Description
Lander New Dynamic V2 90mm Special Metal EDF Unit For 10S
( New Version )
Brand New
Features :
- With High Performance And Durability Multi-Poles Inrunner Motor.
- The Front Horn Shape Intake Ring Can Be Remove And Change To Straight Intake , No Need Any Straight Intake Ring Adapter.
- Whole Shroud Including Of Tail Pipe Are Made By CNC Procedure With Using Special Aluminium Material. That Means Whole Shroud Will Be Worked As Heat Sink To Let Any High Temperature Out From The Operating Motor.
- Motor Are Already Installed & & Whole Fan Dynamically Balanced.
- Base On Above Design & Benefit, Motor Can Be Operated More Efficient To Meet The Peak Performance More Easily & Durability. It Also Indirect Protected The ESC & Battery.
- New Design Of Internal Metal Fan For Motor Ventilation Purpose.
- New Inlet Design To Gain The Zero Gap Effect Between Blade With Housing.
Description:
- Outside Diameter: 94mm
- Rotor Diameter: 90mm , 5 Blade
- Marterial: ABS & Special Aluminium
- Weight: 546g (Whole Unit With Motor)
- Motor: 3674 1300Kv Multi-Poles Inrunner Motor
- Max RPM: 45,000
- Max Power: 3500W
- Battery Required: 37.0V 4500 - 6000mAh
- Static Thrust: Up To 4900g ( ESC Timing Mode : High )
- Current: Around 92A
We are NOT responsible for any import tax, customs fees or customs delay.
Buyer cannot request to cancel the auction or request for refund under this situation.
Please check with your local tax authorities BEFORE bidding.
CONTACT US:
--------------------------------------------------------------------------------
Welcome to contact us with any questions about our product or service:
Lot 644,DD123,Fuk Hei Street,Wang,Chau,Yuen Long,HONG KONG
FUN-KEY' Authorized Dealer
PROMOTION NOW!!
Buy one Scale fuselage get one Lighting System FREE!!!
Welcome
Wholesaler / Dealer / Distributor Enquiry:
Please feel free to contact us if you have any questions on RC aircraft and Jets.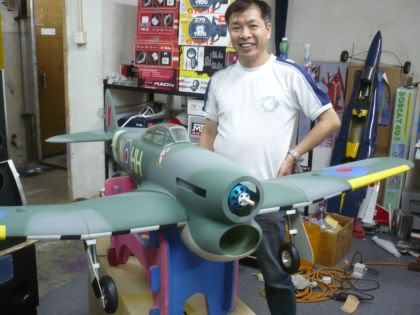 *Ship by Hong Kong Post Office Registered Air Parcel with Tracking Number.
*Will ship to worldwide, Item will be sent out within 7 days after full payment received
*Notification will be sent to buyers.
Product Reviews
Find Similar Products by Category
Customers also viewed