Categories
Categories
Brands
Brands
8A External UBEC w/ 5.1V Step-Down Voltage Regulator
8A External UBEC w/ 5.1V Step-Down Voltage Regulator
Product Description
HobbyWing 8A High current version UBEC.
It can support up to 13 pcs High Performance standard size servos.
BRAND NEW IN BOX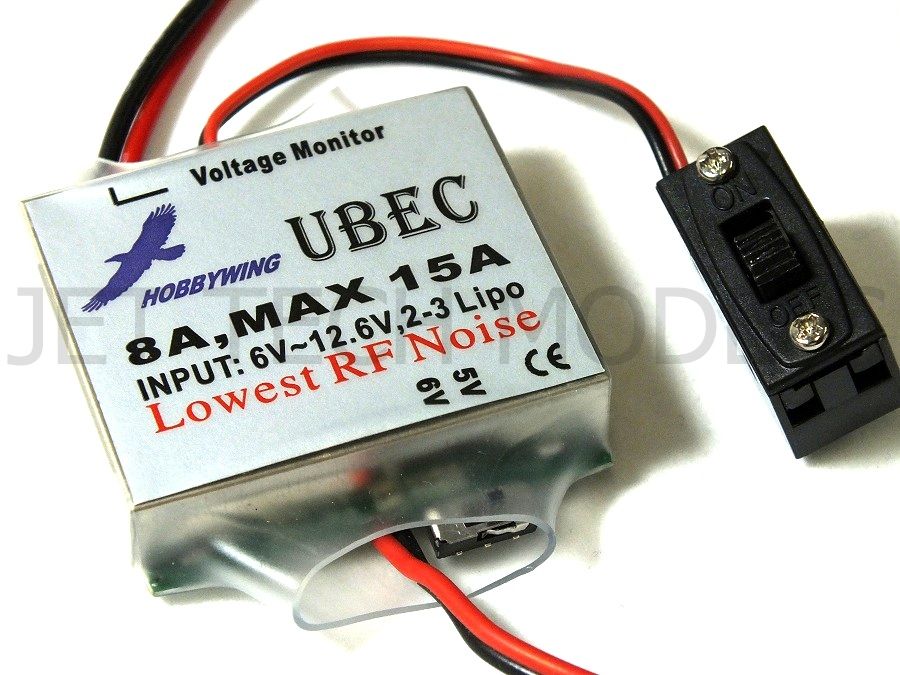 Features:
Using linear design, input power: 2 to 3 celsl Li-ion or Li-poly battery or 12.6V max, features no interference to receiver.
Includes a 5.1V step-down voltage regulator, allowing use of Futaba servo models 9241.9251.9252, 9254.9255.9256, 9257and other digital servos not capable of handling 6V. Connect the regulator inline between the Gyro and the rudder servo. If you are using a servo that can accept 6V input, the regulator is not required.
The 8A-UBEC is a switch-mode DC-DC regulator works with a 2-3S Lipo battery, it outputs a consistent safe voltage for your receiver, gyro and servos.
It is very suitable for large scale RC models with many servos such as nitro powered RC helicopters and airplanes.
Specification
1.1 Output Voltage: 5V or 6V (Changeable with a switch )
1.2 Continuous output current: 8 Amps
1.3 Burst output current: 15 Amps
1.4 Input: 6V-12.6V (2-3S Lipo battery)
1.5 Quiescent current: 60mA
1.6 Size: 42mm*39mm*9mm (length*width*height)
1.7 Weight: 36g

2 Features
2.1 Uses advanced switch-mode DC-DC regulator IC.
2.2 The output current is very large to supply all electric equipments.
2.3 Output short-circuit protection function.
2.4 A metal shield and a filter significantly reduce the electromagnetic interference.
2.5 Automatically detects the amount of the Lipo battery pack (2S or 3S).
2.6 Shows the battery capacity with 4 LEDs.
2.7 Shows the working status with a LED, it lights when the UBEC works normally.
2.8 There are 2 output leads to reduce the resistance when connecting the UEBC to the receiver.
2.9 With a step-down voltage regulator of 0.7V down as an accessory
(It changes the output from 6.0V to 5.3V for some special equipments that cannot work with 6V inputs).
We are NOT responsible for any import tax, customs fees or customs delay.
Buyer cannot request to cancel the auction or request for refund under this situation.
Please check with your local tax authorities BEFORE bidding.
CONTACT US:
--------------------------------------------------------------------------------
Welcome to contact us with any questions about our product or service:
JET TECH MODELS
Welcome
Wholesaler / Dealer / Distributor Enquiry:
*Ship by Hong Kong Post Office Registered Air Parcel with Tracking Number.
*Will ship to worldwide, Item will be sent out within 7 days after full payment received
*Notification will be sent to buyers.
*Please check additional items from our other listings.
Product Reviews
Find Similar Products by Category
Customers also viewed